Are you looking for professional and reliable builders in Uxbridge?
Look no further than Trendsetter Group! We have experience providing a range of services to improve your home, both in aesthetics, functionality, and value. These services include loft conversions, architectural design, garage extensions, and house extensions at competitive prices throughout Uxbridge.
Construction Industry Experts For Your Building Project
At Trendsetter Group, we are known as good local builders in Uxbridge and the surrounding areas of West London. We have been providing top-quality building work to homes throughout Uxbridge for many years now, from full house renovations, to garage conversions, loft conversions, and more! All of our structures are created using the highest-quality materials and we can guarantee we'll do a fantastic job while you receive a competitive price! Our team of experts is dedicated to creating stylish, functional, and comfortable living spaces that meet the needs of our clients. Whether you're looking for a new bedroom, a home office, a playroom for the kids, or just extra living space, we have the skills and experience to help you transform your home.
Make Your Dream Home a Reality!
Whether you want to expand the existing space in your home to make room for new family members, to pursue hobbies, or simply to add value to your property, our master builders are here to help! As many of our previous clients throughout Greater London, North London, and West London can attest, the bespoke service we offer to our clients will make your home into something you're truly looking for.
Our team will work with you to determine the best option for you, whether that is a conversion or an expansion. Throughout the local area of Uxbridge, we should always be your number one choice. In addition to helping our clients obtain planning permission for their projects, we also implement the latest technology and adhere to detailed budgeting to make sure all home improvements meet expectations. Get in touch today for a FREE consultation for our services!
Why Choose Trendsetter Group?
When it comes to builders in Uxbridge, our team is the best choice. We have a wealth of experience and a commitment to quality, which means that we will deliver an end result that meets your every need. Our team is made up of expert architects, designers, and builders who will work together to ensure that your building project is completed to the highest standards. At Trendsetter Group, we believe in using only the best materials and the latest building techniques to ensure that your home is exactly what you want it to be!
We understand that your home is one of your most valuable assets, which is why we are committed to delivering building services that meet your needs and add value to your property. From start to finish, we will be with you every step of the way, providing guidance and support to ensure that your project is a success. Our team will work closely with you to understand your needs, budget, and design preferences, ensuring that your build is completed on time, within budget, and to the highest standards.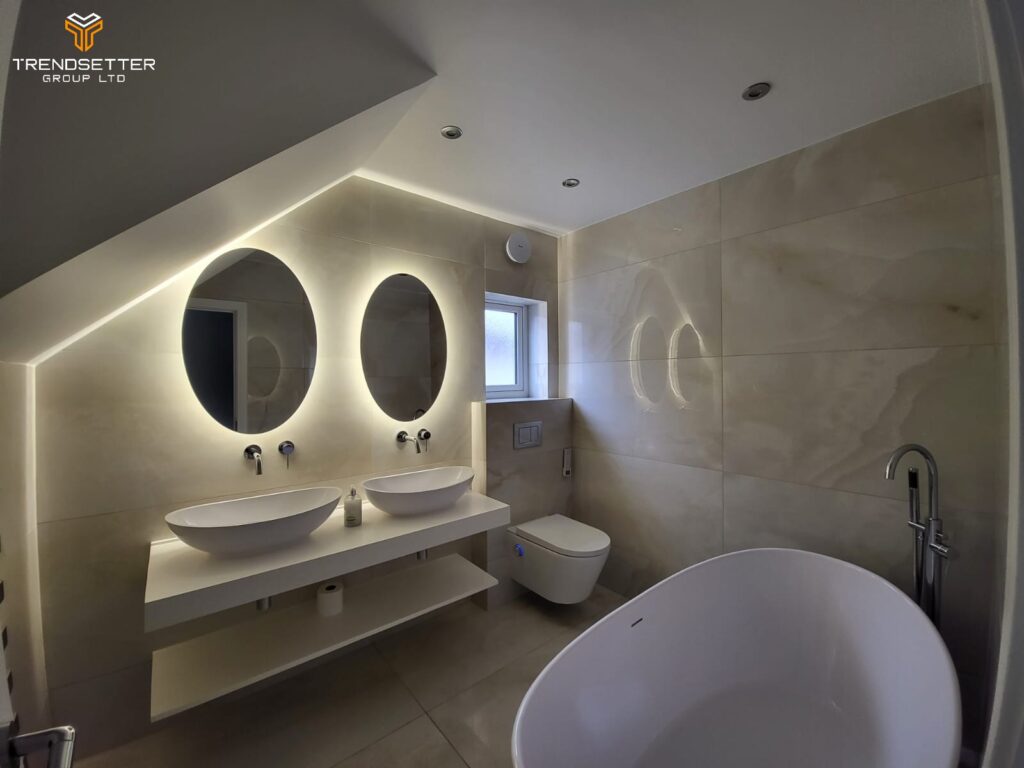 Our Construction Services
At Trendsetter Group, we pride ourselves on offering a comprehensive range of construction services designed to meet every aspect of your home improvement needs. From initial design to final touches, our expert team is dedicated to transforming your vision into a reality. Explore our specialised services to find the perfect solution for your home.
Loft Conversions
Transform your unused attic space into a beautiful and functional area with our loft conversion services. Whether you're dreaming of a serene bedroom, a private home office, or a playful children's playroom, our team at Trendsetter Group has the expertise to make it happen. We handle every aspect of the conversion process, ensuring that the new space blends seamlessly with your existing home while maximising its potential and value.
Garage Extensions
Expand your living space with our bespoke garage extension services. Whether you need an extra room for guests, a home gym, or a workshop, we can turn your garage into a versatile and valuable part of your home. Our team uses innovative design and construction techniques to create a seamless extension that not only looks great but also enhances the functionality of your home.
House Extensions
Looking to add more space to your home? Our house extension services are the perfect solution. From single-room additions to multi-story expansions, we have the skills and experience to bring your vision to life. Our team works closely with you to design and build an extension that not only meets your specific needs but also complements the architectural style of your existing home, adding both space and value.
Architectural Design
At the heart of every great building project is exceptional architectural design. Our talented team of architects and designers are adept at creating bespoke designs that are both aesthetically pleasing and highly functional. Whether you're looking for a traditional or contemporary style, we collaborate with you to craft a design that reflects your personal taste and meets your lifestyle needs, ensuring that every detail is perfect.
Check Out Our Latest Posts!
Essential Supplies For Your Home Office
With more people choosing to work from home, having a distinct home office is crucial. To accommodate this extra space,
Bedroom Design Trends 2023
As the new year unfolds, it brings with it fresh opportunities to revamp our living spaces, particularly our bedrooms. In
Room Ideas For Your Home Expansion
Does your home lack the space to grow your family? Or are you simply looking to upgrade without the hassle
The Benefits of Home Extensions
There are many reasons why you may want to have more space in your home and while moving is certainly
Ready to Transform Your Home? Contact Trendsetter Group Today!
Elevate your living experience with our exceptional building services. Whether it's a spacious loft conversion, a sleek garage extension, a grand house extension, or a custom architectural design, Trendsetter Group is here to bring your vision to life. With our expertise, commitment to quality, and personalised approach, we ensure your home improvement journey is seamless and satisfying. Don't wait to make your dream home a reality. Get in touch with us today for Uxbridge builders and take the first step towards a stunning home transformation with Trendsetter Group.
We also offer our building services in London and if you want a loft conversion but don't live in Uxbridge, we also provide our loft conversion services in Slough, London, Twickenham, Richmond, Rickmansworth, Amersham, and Harrow! 
The team at Trendsetter Group did a fantastic job with our loft conversion in Uxbridge. They transformed an unused attic into a stunning, spacious room that we now use daily. Their craftsmanship and dedication to quality were evident in every step.
Trendsetter Group exceeded our expectations with our loft conversion. Their attention to detail was impeccable from the initial consultation to the final touches. They seamlessly handled every aspect of the project, making the process stress-free for us.
We recently had our loft converted by Trendsetter Group, and we are absolutely delighted with the result. The team was professional, efficient, and incredibly respectful of our space throughout the project. The conversion has added so much value to our home in Uxbridge, both in terms of space and aesthetics.
Having my garage extended by Trendsetter Group was an excellent decision. Their team was not only highly skilled but also incredibly courteous and communicative throughout the process. They took my vision and turned it into a reality, exceeding my expectations.
When my home was undergoing a major renovation, I turned to Trendsetter Group for a loft conversion. They got to work straight away, stayed within my budget, and now I have more room in my home for my kids to grow in.
The team at Trendsetter Group were great when I wanted to add an extension to my home. From the design to obtaining planning permission, they were extremely reliable and I couldn't be happier with the completed result!
When my family was expanding, we knew we needed more space in our home, so we turned to Trendsetter Group to help with some architectural designs for a loft conversion. The plans looked great, and we moved forward also using Trendsetter Group, and now my home is ready for my daughter's arrival in December. Thanks guys!
The team at Trendsetter Group provided the perfect service for my architectural design needs. I am very happy with the designs they offered me, and I highly recommend this expert team to anyone looking for architectural designers in London.
I first started looking for architectural design services for expanding the rear of my property in London and Trendsetter Group was amazing from start to finish. They stayed within my budget, kept me involved throughout, and provided amazing expertise. I will never go with another company for architectural design.
When I was looking for a loft conversion specialist, Trendsetter Group instantly stood out and I'm so glad I chose them for my loft conversion. Now I have more space to allow my family to grow and I didn't even have to sacrifice outdoor space for it! Thanks guys!